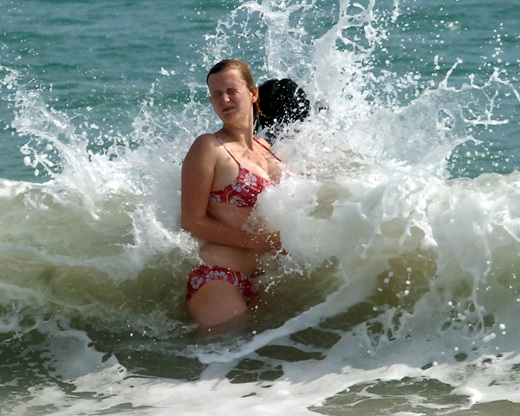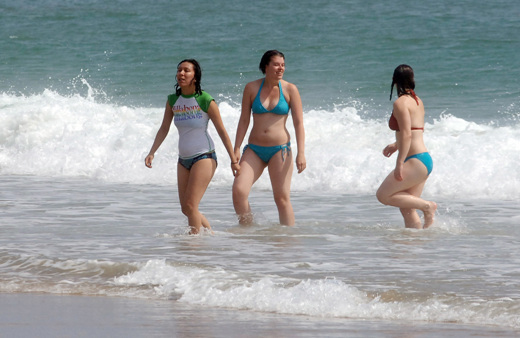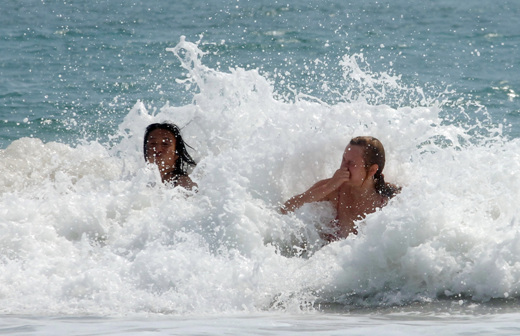 "It's ok if WE do it, though. Here's an entire photo gallery of Chosun Ilbo reporters shooting up busty white women being jostled and jiggled by crashing waves. Now, THAT's news!
I find
this article's
overall tone and obvious pointlessness vaguely racist.  it's not about yelling names or calling for discriminatory acts, but it's about otherrizing and stigmatizing specific group of people in a continuous pattern for no apparent reason other than t0 point out social discomfort with the fact that people from this group are doing that thing.  And even and especially in Korea these days, it's not so cool to be overtly racist, at least not anymore. So the way to do it is to steal a page from American apologists for racism and couch  discontent over contact with stigmatize other in terms of the apparently positive discourse of multiculturalism.  In this article, what popped out at me is the fact that the apparent social issue and niggardly problem of apparently mostly brown  men from Pakistan and other "foreign laborers from South Asia"  taking pictures of bikini-clad women on the beach  is not attributed to anything concrete such as perhaps there being some lack of knowledge regarding law and custom regarding photography, or even the possibility that such men are consciously and willfully flouting such laws, but the article starts off the questioning about  why this is happening with phrases such as, "Perhaps being due to cultural differences…"  and grounding the article's raison de etre with quotes from interviews with apparently distressed young women saying, " I don't feel free to run around and play and stuff with all these man staring at me so intently and taking pictures that might end up on the Internet." Ah,  So it's truly crisis worthy of continuously writing articles targeting specific ethnic groups with headliners such as "South Asian Haeeundae Summer Vacationers Univited Guests?" in in a very meta-way, indeed they are uninvited guests,  as the article not-so-subtly implies, and it's difficult not to make the  mental connection with the very obvious social fact that brown men from South Asia are  unwanted and indeed "uninvited guests" in general.
The big question that needs to be asked here is whether this is  even newsworthy,  and why the perceived newsworthiness seems to  based around the fact of these men being of different ethnic origin and from  already  heavily stigmatized countries. there is also the questionable fact that this exact same story seems to come up again and again over the course of a single summer and the pattern continues from summer to summer in general.  And the article itself dozen even pose the issue as anything significant or  a real issue  warranting real  proposals or solutions.  It just skirts the issue  and protect itself from criticism by copping out with the final line that "This is something that society must consider."  What the hell does that mean, exactly?   Although no cut news  publication is not worth the paper it's printed on  as even an alternative to toilet paper, the writers are smart enough to avoid the appearance of intolerable bias by casting their racist aspersions   under the guys and protection of seemingly innocuous attempt to bridge walls of "cultural misunderstanding." but don't get it twisted.
No, THIS is perfectly acceptable, though, right? Might THIS be applicable under the new special sexual harrassment law? Taking pictures of high school girls changing with a 300mm lens set BELOW relative ground level? Might this not cause "embarrasment or shame?"
Yet the newspapers are targeting a relatively tiny number of vacationing brown factory workers who take out their cameras on the beach on the few days per YEAR they get exposure to the sun per year and take pics of bikini-clad girls that might go on the Internet (Oh, no! Girls in bikinis standing in public places doing absolutely normal things!) while Korean NEWSPAPER photographers are busy doing the exact same to busty white girls bobbling about in the surf, and UPSKIRTING MINORS in pics that are definitely going on the 'net. Put those brown guys in jail! Fine 'em! Bring the paddy wagons!!
If I got caught taking these pictures by the police, I'd be under the jail.
The whole reason for this ongoing pattern of stories  is to otherize and stigmatize aspecific group of people we know all too well is already very heavily looked down upon in  Korean society.  To argue that this is innocuous is to bend over backwards  defend this kind of  this kind of garbage reporting.
Sure, there might be some problems and some irritating differences in thinking and habit on the beach. Even the article cannot bring itself to up the ante of concern to anything actually significant or important, other than an unnamed young woman in her 20s who complains that men "stare at her" and take pictures of them. This article only works as "news" to anyone who finds the fact that the hands holding the camera are dirty and brown. It seems that the trash reporters writing this garbage have smartened up enough to not come out and say it, this being the age of Korean "multiculturalism" and all, but the same sentiments are all still there, both in terms of tone and selective emphasis.
Now, apologists for all this, as well as those who are loathe to see the R word used anywhere, since it obviously must be an overreaction–are going to ask rhetorical questions such as "would you want your pictures taken like this on the beach?" Or "what if it was your wife or girlfriend being photographed on the beach?" while ignoring the questions of said selective emphasis and the fact that the crux of the consternation has to do with the beach photographers' ethnic origin, to the point of outright calling them "unwanted guests," albeit under the guise of simply calling them uninvited BEACH guests. But the sub textual message is pretty obvious: why are these unwanted undesirables allowed to sexually ogle OUR women with impunity? Indeed, "This is something that society must consider."